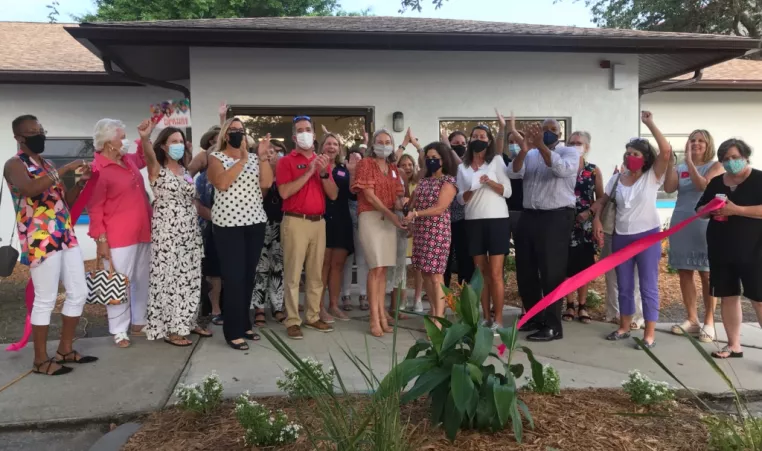 VENICE, Florida – YMCA of Southwest Florida hosted its Grand Re-opening of the Venice YMCA Youth Development Center and celebrated its partnership with Impact100 SRQ on August 26th . Over 50 community leaders, Impact100 SRQ members and YMCA stakeholders attended the event.
In 2020, YMCA of Southwest Florida was one of three nonprofits awarded a $114,000 transformational grant from Impact100 SRQ. The grant allowed the Y to renovate the outdated childcare center on its Venice YMCA campus to expand its early learning and out-of-school enrichment programs in South Sarasota County. Through the renovation of this center, the Y will serve an additional 120-130 children daily through early learning, after school enrichment and summer camp.
The grantor, Impact100 SRQ, empowers women to collectively fund transformational grants to nonprofits in Sarasota & Manatee Counties. The members of Impact100 SRQ believe that, together, women can make a sustainable impact in our community, one transformational grant at a time.
"Impact100 SRQ's vision to transform communities through innovative and meaningful collaborations is phenomenal. Our partnership is a true testament to what we can accomplish when we work together," said Gene T. Jones, YMCA of Southwest Florida's President & CEO. "Together, we were able to renovate a building that has served families for over three decades and will now be able to serve families for another 30 years. I want to express my utmost gratitude to the women of Impact100 SRQ for making this a reality."
Jane Watt, President of Impact100 SRQ, agrees, "The Grand Re-opening of the Youth Development Center illustrates the wonderful benefit of community partnerships for a greater good, this initiative will have an immediate & positive impact for many years to come".
This project directly aligns with YMCA of Southwest Florida's Strategic Plan initiative to nurture the potential of every child and teen. By expanding its youth development programs through partnerships, the Y is able to meet the increased demand for childcare and out-of-school enrichment programs in South Sarasota County.
YMCA of Southwest Florida serves the counties of Manatee, Sarasota, Charlotte, Lee, Hendry and Glades through programs that promote youth development, healthy living and social responsibility. Everyone in the communities served by YMCA of Southwest Florida has access to its programs through the YMCA Scholarship Fund. Regardless of their inability to pay, financial assistance is available due to community partners' and donors' support.
For more information on YMCA of Southwest Florida, community members are encouraged to contact Jamie Browning, Vice President of Development, YMCA of Southwest Florida at (941) 492-9622 or [email protected].